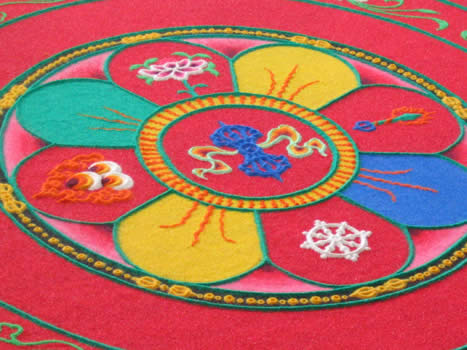 My town was lucky enough to host monks from the Tashi Lhunpo Monastery in India again this year as part of their North American tour to raise awareness for the plight of the Panchen Lama. This time they made a peace mandala, gave some talks and performed the cham (a demonstration of several traditional dances, debate, music and prayer).
The mandala is a flat sand painting that actually is a two dimensional representation of a palace for a diety to come to. They "call" the diety to enter the palace and they chant and pray, then they dismantle the house. The mandala is made of colored sand that is put into a hollow ridged tube that is rubbed to make sand fall out in a controlled way. Here are two examples of the sand tool and the sand too: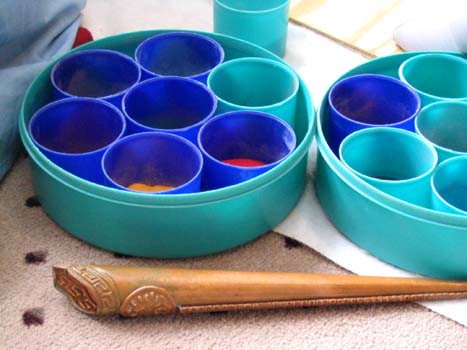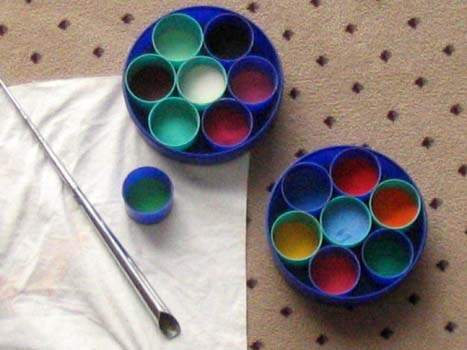 While they were making the mandala, and at the cham too, a small altar was near them. On the altar were photos of the Dalai Lama, and the Panchen Lama as well as some offerings.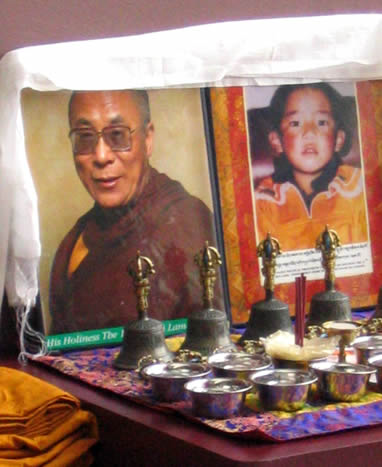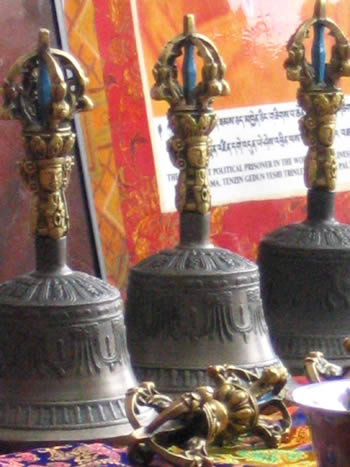 This picture of the bells was a real surprise for me. In this picture, you can see that on the handle is a head wearing a crown. The crown is the very same crown that the monks wear in part of the cham. I didn't know this until I was looking at these pictures after the cham, so this is an instance of me being really happy I had a good zoom lens on my camera!
To make the mandala, the monks take a piece of plywood and draw some basic guidelines on it. Lines that intersect and mark the corners, and also a few circles so they can make the sand lines evenly and exactly. They sit on the floor and bend close to the wood so they can concentrate and watch what they are doing. Their devotion and concentration is amazing.
Click here to download a short video clip of the monks working.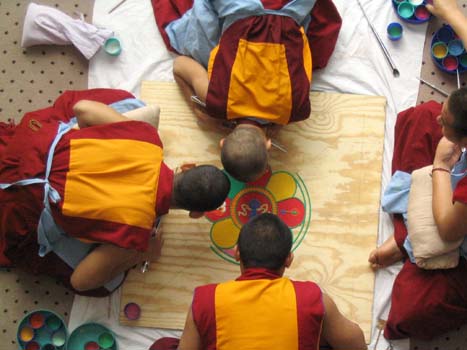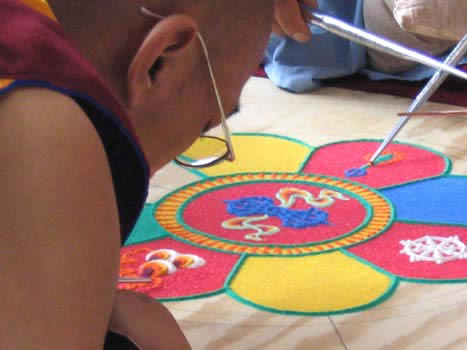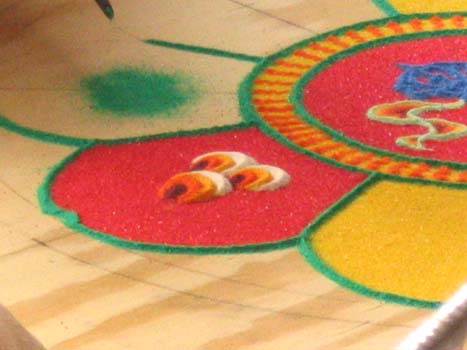 If you look closely at the picture above, you can actually see sand coming out of the sand tool!
These next few pictures show something else I didn't notice until I was looking at these pictures. This first one shows a monk using a different sand tool (actually this is the tool they use to rub on the ridges of the other sand tool) to make lines in the green sand so he will know where and how to make the leaves. In the second picture, you can actually see the lines (look closely!), and in the third picture, he is filling in the lines with different color sand.