Trespassers Will was a fun and successful band. We formed by a chance one day after a chance meeting in a grocery store. Beth and Bud were frustrated with their band situation, and bumped into Mark David in the produce section of our local store. Seems Mark too was frustrated with his current band situation. So one thing led to another and the three decided to band together! Obviously, ground rules were needed, so we three decided on some rules:
1. No Grateful Dead covers. While we all loved the Dead, we didn't want to cover any of their songs.
2. Use nonstandard instrumentation as much as possible. I played banjo and guitar and Mark played mandolin and guitar, so we decided to use these instruments whenever the mood struck whether it was expected or not!
3. Do mostly original material, and if we did covers, we'd do them our own way.
4. Most importantly....HAVE FUN!
With these rules in hand, we built our band. First we added Lynnie Golan on vocals, then Max Wetzel on percussion, then Mark Young on drums. Lynnie and Mark left the band and were replaced by Laura Blackley and Brian Mabe, from that point on we were nearly unstoppable. We played extensively and recorded and promoted our first and only CD, "clownie".
"clownie" received a lot of college airplay and was a regional success for us. One of the songs on it, "Cafe Blinky Light" was chosed by Roo Records to be on a benefit compilation CD for the Chesapeake Bay Foundation. That same song was also chosen by MTV to be on an episode of The Real World. It was quite an adventure for us and it still makes us smile. It's nice to be able to honestly say "Hey, I've been on MTV".
Have a listen to a few of our songs while you look at the pictures:
Clearing a Space LoFi HiFi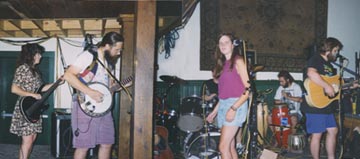 Trespassers Will playing our favorite spot, 117 South Main Cafe in Blacksburg, Virginia. (L-R Beth Kelsey- bass, Bud Bennett- banjo, guitar and vocals, Brian Mabe- drums,Laura Blackley- guitar and vocals, Max Wetzel- percussion, Mark David- lead guitars, mandolin and vocals)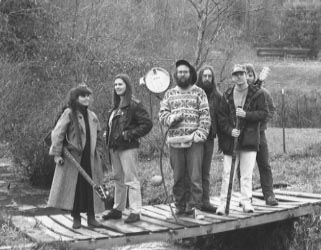 This was one of our publicity photo's taken about the time MTV called us to see IF we'd let them use one of our songs on an episode of The Real World.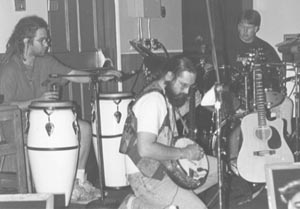 Max, Bud, and Brian during a reflective psychedelic jam.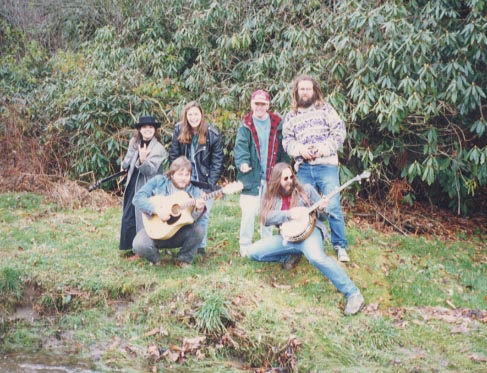 Trespassers Will.....Heavy Metal Americana??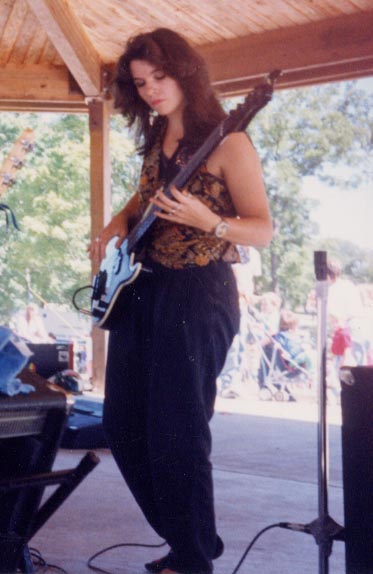 Beth Kelsey on bass.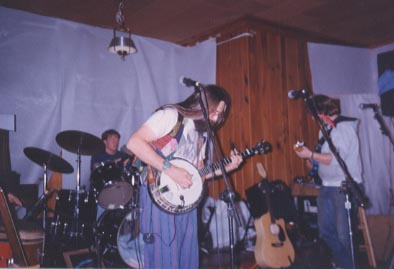 Bud Bennett on rock and roll banjo.